Cleaning boots according to BRC standards
Monday 20 March 2023
By:

BOONS FIS

Category:

Hygiene equipment
Within the food sector, certificates are gaining importance, such as HACCP, BRC and FSCC. In this way, the standards that food processing companies must meet are tightening. In many cases, proper compliance with these standards starts with the personal hygiene of employees within a company.
The BRC standard is essential for a food processing company. BRC stands for British Retail Consortium. In 2003, this professional association of distributors established a specific standard for better food safety and control of food products.
In the food industry, a company with a BRC certificate stands for a supplier that can provide strong guarantees in terms of food safety, traceability and quality.
The purpose of a BRC certification is to avoid numerous audits of various supermarket chains to which a food manufacturer supplies.
What exactly are those BRC Global Standards?
Site standardsRequirements for equipment, maintenance, social areas and risk of contamination.
Product control
In this, the business process is tested on the design, packaging, inspection and release of products. In addition, allergen management and guaranteeing claims will be examined.
The food safety and quality management system
This aspect is based on the ISO 9001 certificate. Here, product specifications, supplier approval, traceability, etc. are checked.
Food safety plan - HACCP
To obtain the BRC certificate, a HACCP plan must be present.
Senior management involvement
It is important that senior management is fully involved in the implementation of the standard.
Process control
Operational control of production is required to obtain a BRC certificate.
Personal hygiene of employees
Qualified and skilled personnel is the final requirement for the BRC certificate. Personal hygiene and training are central to this.
Personal hygiene
In this blog we focus on the last point and more specifically on cleaning boots. This is an important aspect to meet the requirements of the BRC certificate. It is advisable to invest in advanced and automated systems that can guarantee the personal hygiene of your employees.
Cleaning boots
Before entering the production area (low care zone), employees' boots must be cleaned. Sole and shaft cleaning by means of brushes usually suffice here. The sole cleaners DR already offer the appropriate solution here, whether or not combined with a shaft cleaner. In a low-care zone there is less risk of contamination or growth of micro-organisms during the processing of goods/food.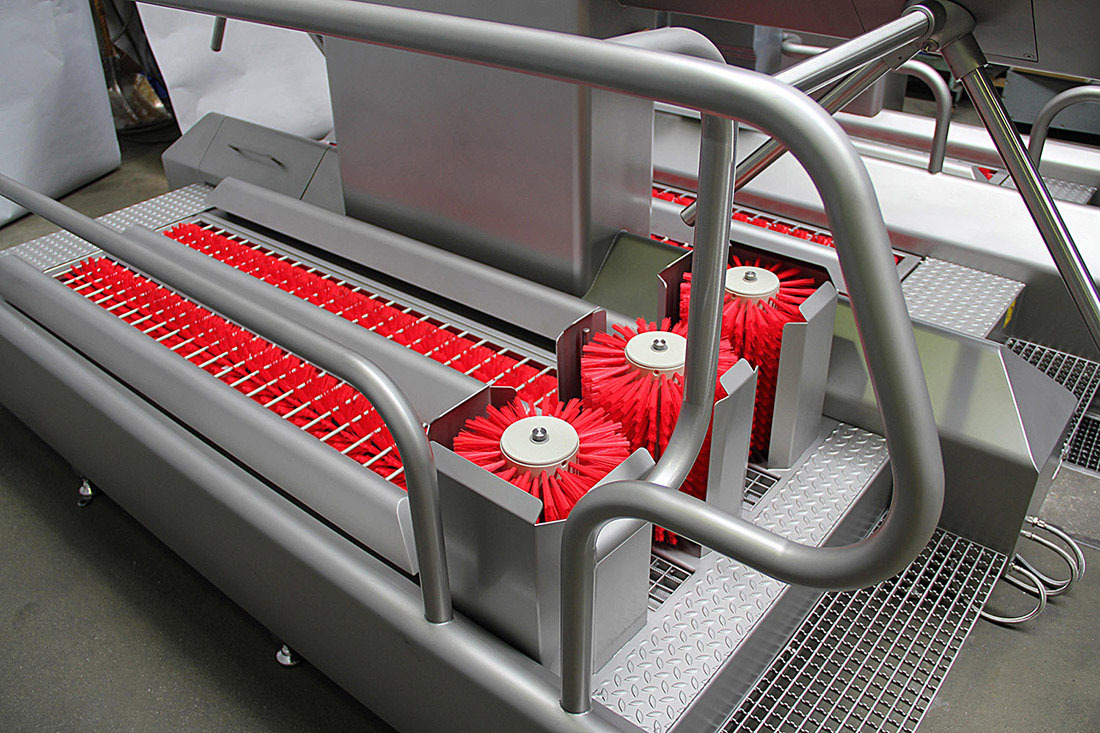 Disinfection bath
However, when entering a high care zone, where hygiene standards are much higher, it is mandatory to change footwear. Employees are therefore obliged to leave their shoes in the changing room and then put on boots that are only used in this high care zone.
These boots are always disinfected in a disinfection bath before entering the production zone. Such a disinfection bath is usually integrated in a complete hygiene lock, which may or may not include a hand disinfection unit and turnstile. The turnstile (turnstile) only provides access to the production area when the hygiene lock is fully completed in accordance with the standard.
This process significantly reduces the risk of contamination.
Do you want to know more about how you can meet the standards to obtain the necessary certificates?
Our specialists are happy to look at the possibilities within your company with you.